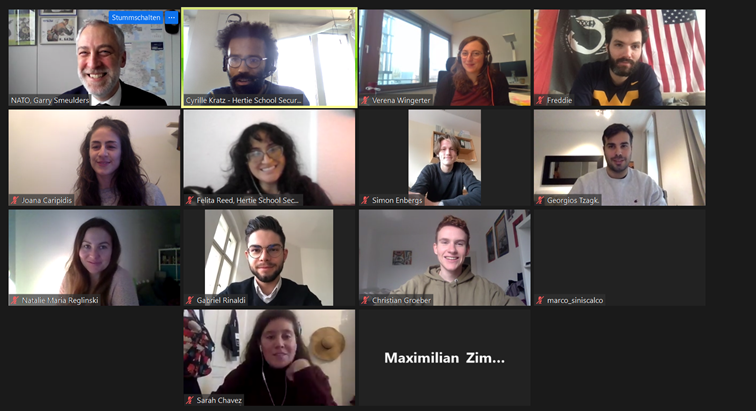 On 04 December 2020, we had the pleasure to organize an event on nuclear deterrence and non-proliferation together with the Berlin scholarship holders' group 05 of the Konrad-Adenauer-Foundation. For this we had Mr. William Alberque as guest, the Director of the NATO WMD Arms Control, Disarmament and Non-Proliferation Centre, the leading expert on NATO's non-proliferation policy.
Mr. Alberque, or William, as he introduced himself, started with the basics and explained to us that, in principle, any plan to prevent a confrontation or to reduce the number of weapons in conflict can be considered arms control. It does not matter whether these efforts are bilateral, multilateral, or
transnational, or whether they are legally or politically binding. Funnily enough, there is even unilateral arms control.
The basis for arms control is always a shared interest to avoid unintentional conflict and/or ruinous arms races. Arms control is usually based on three components: military significance,
reciprocity and verifiability,
and
aims to detect and avert military cheating.
NATO's key considerations regarding arms control are:
Security
(arms control must increase security for all),
stability
(arms control must prevent surprise attacks), and
verifiability
(arms control must provide
effective and reliable means to check compliance). Thus, arms control, together with deterrence, is the tandem that protects the NATO territory.
Arms control has been around as long as there have been weapons to protect against. However, the history of arms control in modern times can probably be started with the Quebec Agreement 1943. The Cold War made arms control immensely important and today, NATO and Mr. Alberque are still fighting with full force to get potential conflicting parties around the table to prevent conflict.
After a brief historical overview, Mr. Alberque went on to discuss NATO's current role in arms control, which it fulfills with many committees. Although there is a special focus on Russia and
China, arms control for NATO, of course, also means to get in touch with many other countries and actors to make dialogue possible.
After Mr. Alberque's presentation there was plenty of time for Q&As, which resulted in an interesting discussion.
We would like to thank Mr. Alberque and our audience very much for their participation and are happy to say that Mr. Alberque has agreed to be available for further events.mil